U-motion II
U-Motion II Acetabular System allows orthopedic surgeons to select an optimal couple for demanded patient populations without compromise.
U-Motion II⁺
U-Motion II+ Acetabular System utilizes the new Ti plasma spray plus (TPS Plus) coating technology to achieve a greater surface roughness (Ra).
UTF Reduced Stem
UOC introduces a specifically designed UTF reduced stem for whole populations, which has the advantages of metaphyseal fitting, bone preservation and simple surgical technique.
UCP Stem
UCP Stem is designed with clinically proven philosophies to reproduce excellent outcomes. Collarless design and various insertion depth options allow surgeon to balance leg length with ease.
GTF II Stem
An alternative solution for severe proximal femoral bone loss.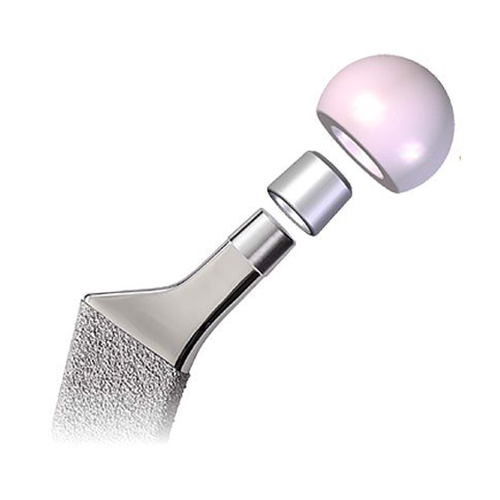 BIOLOX OPTION
High surgical flexibility with various head sizes and neck lengths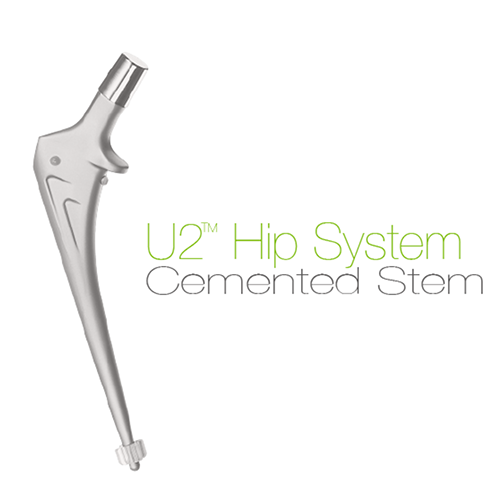 U2 Cemented Stem
The U2™ cemented stem is intended for cement fixation within the prepared femoral canals of patients requiring cemented hip arthroplasty. The spacers and centralizer are intended to maintain a uniform cement mantle and to improve stem alignment.
Full XPE Cup
Full details available on the pdf attachment.
Bipolar II™ System
United Orthopedic's single-piece, ISO-7206-2-compliant Bipolar II™ Hip System assembly features a highly polished metallic cap that reduces friction and wear, enhances range of motion and extends implant life. The one-piece Bipolar II™ Hip System assembly is available in precise, 1 mm increments to facilitate a precise acetabular fit that accommodates a wide range of patients. The system's anti-rotation design features an outer beveled lip that simplifies reduction and minimizes debris deposition resulting from cap-to-liner micromotion.
U2™ HA Stem
Full details available on the pdf attachment.
U2 Matrix Porous Stem
United U2 Matrix Porous Stem is indicated for primary total hip arthroplasty, which is a new member of the multiple stem options from the United U2 Hip system. The design adaption aimed to enhance stability through the proximal porous coating, and to reduce stress shielding via polished teardrop distal end.
U2™ Revision Stem
Made from durable, forged-titanium alloy and spray-coated with biocompatible titanium plasma, the U2 Revision Hip Stem™ offers high fatigue strength, low elastic modulus and excellent bone-ingrowth potential. The U2 Revision Hip Stem™ is available in 180 mm straight and 230 mm bowed options, with a flexible choice of collared and collarless geometries. This gives surgeons a range of intraoperative fitting options to achieve optimal femoral implant fit.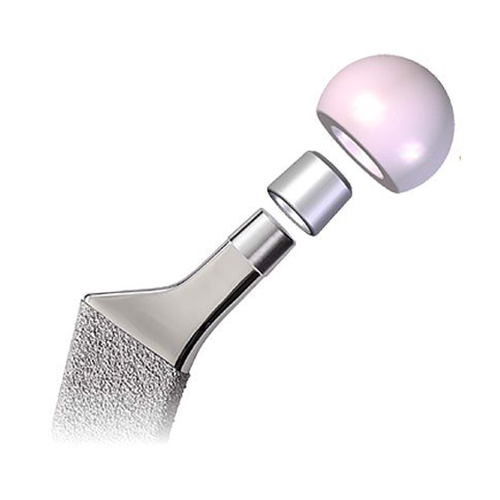 RepliCase Hip
-An Instrument Set to Reproduce Hip Cement Spacer with Ease.
-Total hip type spacer prosthesis prevent dislocation.
PSA Revision
With its 134° high-flexion design and full compatibility with our U2 Knee™ primary system United Orthopedic's U2 PSA Revision Knee™ is designed to provide predictable stability and positive outcomes.
U2 Knee System
With its 155° high-flexion design and unique bone preserving properties, the award-winning U2 Knee™ system is ideal for reducing or relieving pain and/or improving knee function in skeletally mature patients who suffer from:
CMA Baseplate
The U2 Cemented Modular Augmentable Baseplate is an optimal solution for Tibial bone defect in primary total knee replacement. Indications such as Unilateral Moderate Tibial Bone Deficiencies can now be well addressed following simple instruments.
U2 Knee APT
-Deeper cement recess with rougher surface finishing to enhance cement fixation and anti-rotation
-Featured instrument design ensures safer implantation
USTAR™ System
Full detail available on the pdf attachment.
Location
Residencias De Manila Building 8,